Becoming Carnivore-ish
After years of trying just about every diet (beware of this 4 letter word!) out there and struggling to keep up with all of the new research and trends, I have found a back to basics, quality "Carnivore-ish" (animal-based nose to tail diet focused on beef, more on this below) to be the winner for a very effective way to feel full longer, enjoy my food, and have plenty of energy, plus I hardly have to think about my meal prep.
This also happens to fit quite nicely with the theme of my minimalist, primal, nature based training style I call "Ancient Strength".
Just to share a little background on this diet, a true strict Carnivore Diet enthusiast would not add any veggies to this recipe and chooses to eat only meat products. Personally, I like to keep some veggies, fruit, and other variety of protein sources like seafood in my diet for variety, athletic performance, and sustainability.   
The recipe I'm sharing with you today is be considered Carnivore-ish or animal based.   With any nutritional plan, most importantly, the key litmus test is that it must be SUSTAINABLE for a lifetime or at least long term as in 6 months or more.
I'm happy to say that this plan has been battle tested now for well over a year, my wife and I both agree that we are sticking to it as our preferred style of food prep and eating style. 
For starters, I believe the most effective and efficient way to eat an animal-based diet is to buy local grass-fed beef since it's more eco-friendly and ethical. I feel a connection to the animal and get to actually go out the farm to talk the local farmer who raised all of the meat my family eats. I pick it up on-site several times a year now in "half share" (half of the cow) portions.
Note: many companies will also deliver straight to your door for no cost or very low cost if preferred.
This easily fits into an average size, dedicated deep freezer, but you can also buy smaller portions too which can offer you a variety of different cuts and can sometimes save you money. (Oh, and before you dismiss this as not an option for you, please know that store bought meat is also fine to get you started.) 
Secondly, I also eat the offal (yes, it's actually pronounced AW-FUL) organ meat and other "extra" parts of the animal that are full of useful bioavailable nutrients in just the right ratios as nature intended. It's takes an adventurous spirit and some getting used to the texture, but offal, especially bone marrow, heart and liver is exceptionally nutritious and ultimately I consider them to be animal based superfoods.
Dr. Paul Salidino, author of the Carnivore Code says, "Eating an animal nose to tail is the ultimate human mulit-vitamin". 
Specifically here with this recipe we are focused on bone marrow which contains protein, vitamin B12, riboflavin, collagen and conjugated linoleic acid which can support joint function, decrease inflammation and promote skin health among other things. 
Sometimes it can be a challenge to find recipes that use all of the cuts I get in my share of beef, so this recipe was inspired by that and I wanted to share it with all of you. 
Even if you only eat meat occasionally, this is a heavy hitter recipe for nutritional quality and the marrow simply tastes divine.
Please consider exploring more about an animal based diet in the resources below and I hope it brings you closer to your Ancient Strength too! 
The finished product
A delicious and nutritious stew
Equipment
Ingredients
1 lb stewing beef (easy substitution: ground beef)

2 lb beef soup bones with bone marrow 

1 onion sliced

1 teaspoon black peppercorns (we just added black pepper)

1 teaspoon plus more to taste (our recommendation is Redmond Real Salt)

6 cups water (easy substitution: for more protein and richness add use 3 cups of bone broth/3 cups water)

3 potatoes (easy substitution: 2 cups of rice or combination of rice and potatoes)

½ large green cabbage (easy substitution: more cabbage if you want to get more veggies in your diet)

We also added 1.5 tsp of beef bouillon (organic, if you can find it!)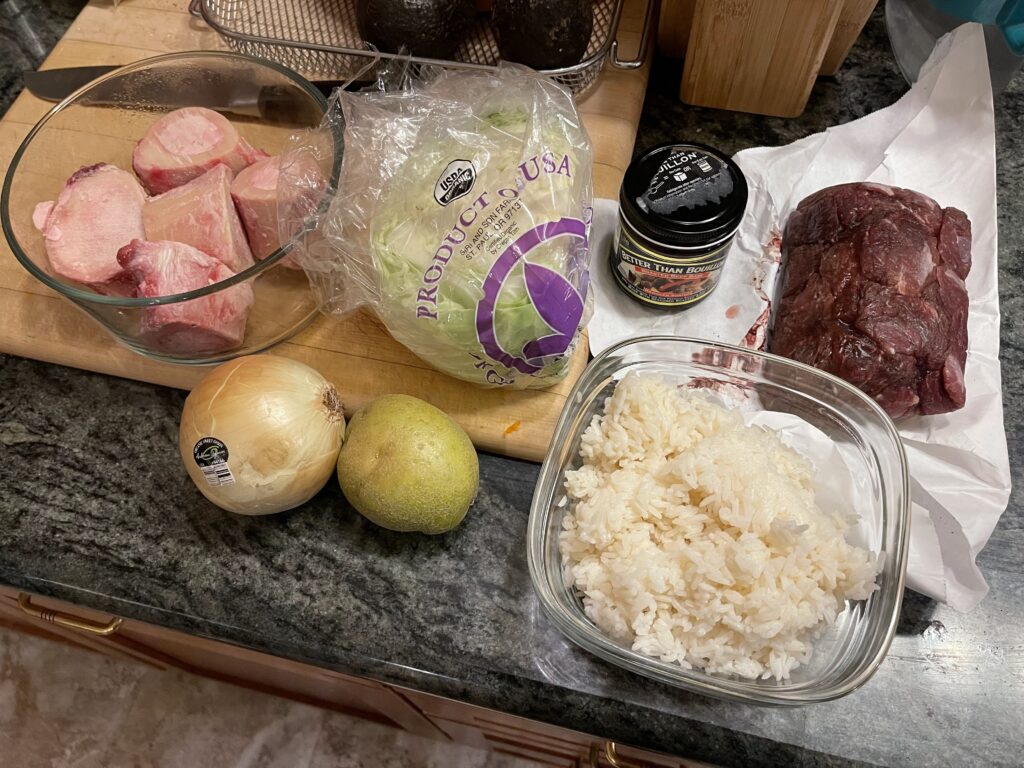 Nutritional Content:
Servings: 4
Calories: approx. 450kcal
Protein: approx 29g (25% of total calories)
Fat: approx 18g (36% of total calories)
Carbs: approx 42 g (37% of total calories)
Instructions
In an Instant Pot, add the beef, bones, onion, peppercorns, salt, and water. Cover and set to Meat/Stew (or Manual at high pressure) for 30 minutes.

While the stew is cooking, peel and quarter the potatoes. Core the cabbage, and cut into 1 to 2-inch chunks.

When the Instant Pot beeps, allow pressure to release naturally. Carefully open the lid. You may want to scoop out the bones and meat to make room for the vegetables.

Add the vegetables after the meat/stew is done. Here are two options:

Sauté mode option: Set to Sauté mode at the default setting, then add the potatoes and cabbage. Leave the lid off. Cook until potatoes are fork-tender, this should not take 30 minutes. Turn off the Instant Pot. Add more salt to taste.

Manual mode with Quick Release option: Add the potatoes and cabbage. Cover and set to Soup (or Manual at high pressure) for 3 minutes. When the Instant Pot beeps,

very carefully

do a Quick Release using the back of a spatula or wooden spoon.  (We chose this option, it worked perfectly)

Serve warm and enjoy or pack into Pyrex containers as we have done here for easy leftovers.
Then you're going to want to snag a spot in our upcoming program - Odin's Quest: The Journey to Ancient Strength.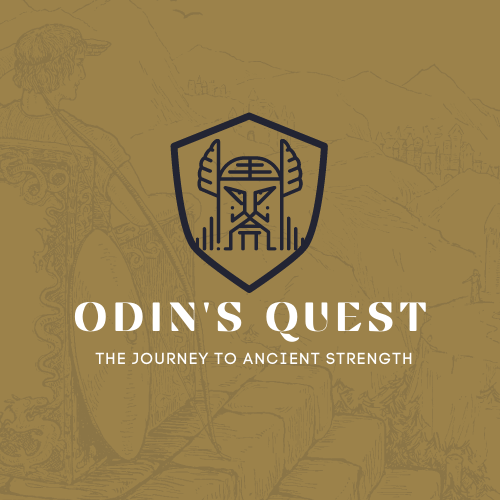 This 6 Week program will leave you feeling like a warrior and get you in touch with new tools and techniques that you're probably not used to but your body will love, plus you'll gain crazy amounts of strength.
Get Ancient Warrior Strong
Build New Skills
Feel Like a Badass