Just because the holidays are upon us doesn't mean our daily meals need to be holiday-themed or dunked in chocolate. We've got about two weeks left in 2020 (can I get an "amen1") and in this edition of "What is Kat eating?" we're hooking you up with some of the favorites we like to enjoy in our home. Each of these meals are simple to create and an absolute joy to eat. Aside from the recipe that is a creation of my own, each recipe includes a link to the original creator as well as my recipe notes. Each recipe is great in it's original state but don't be afraid to mix things up based upon what you've got on hand.
By: Kathleen 'Kat' Entwistle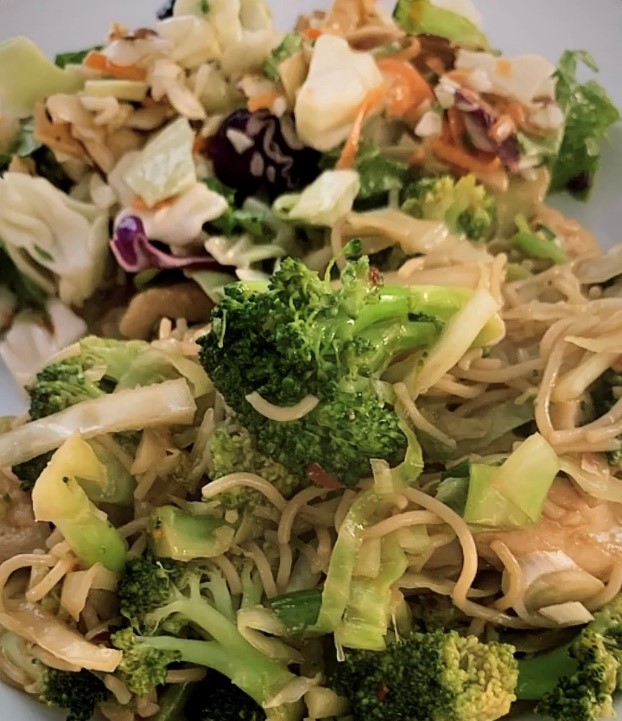 Photo Credit: Kathleen Entwistle Recipe Credit: Mary's Whole Life
If you're looking for a quick and delicious meal the whole family will love, this is the one for you! I am a huge fan of any (and all) Asian inspired cuisine and this recipe knocks it out of the park. Not to mention it is so fast to prep that it's perfect for a weeknight meal.
Notes:
Don't be afraid to sub the beef for chicken. Shrimp could even be tasty, just haven't tried it yet.
You can also swap the recommended gluten free noodles (which are delicious and found at Costco) for the good 'ol Top Ramen version…just ditch the seasoning packet.
If you forget to grab rice vinegar, you can use white wine vinegar instead
We avoid soy around here but low sodium soy sauce will also work if you don't have coconut aminos on hand – just don't add any extra salt until you've given it a taste test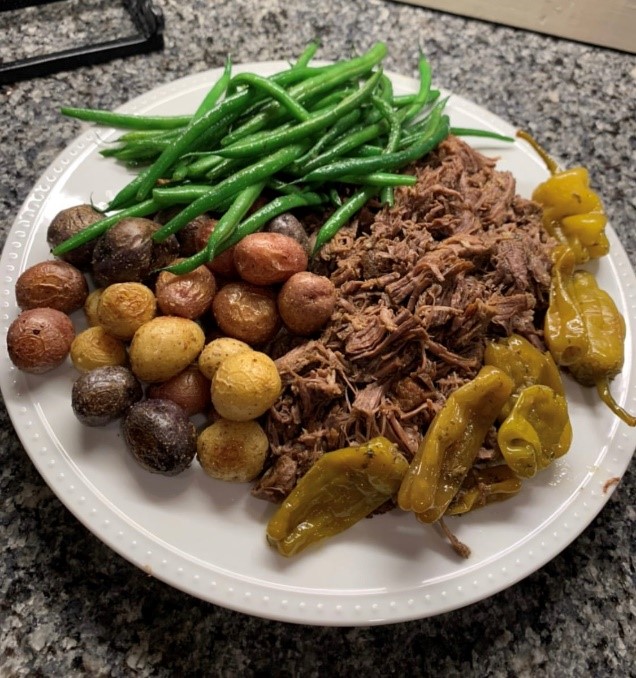 Photo Credit: Kathleen Entwistle Recipe Credit: Mary's Whole Life
An amazing option from my girl, Mary, at Mary's Whole Life. This is one that my family just LOVES! It is exceptionally awesome now that the weather is starting to cool down and you just want to enjoy some comfort food. The pepperoncinis add a bit of a kick to the tender beef and the tangy gravy that accompanies the dish is the perfect topper!
Notes:
If you're not Paleo or Whole30, feel free to sub out ingredients as needed. If you are, just check your labels and make sure what you're using is compliant.
We never have beef stock on hand and always use chicken stock instead – still tastes delicious.
Always double the gravy. Always.
We've always made this in the instant pot so give that a try if you've got one and want to skip using the slow cooker.
We serve this with green beans and baby potatoes (as seen above) or a mashed potato/cauliflower combo. You can always serve with cauliflower rice or regular mashed potatoes as well.
To make the mashed potato/cauliflower combo, boil some potatoes and while that's happening, make some cauliflower rice. Use an immersion blender to make the rice smooth and add it to the potatoes. Mash it all together and season to your preference.
Photo Credit: Kathleen Entwistle Recipe Credit: Fit Foodie Finds
Coming in hot with another amazing Asian inspired dish and I mean HOT! If you like spice, then this one is for you! This recipe is super easy and is so delicious!
Notes:
This one is always doubled in our house because it is amazing!
If you don't double the recipe you definitely want to double the sauce.
We usually serve this dish with a white (or brown) rice and cauliflower mixture.
I am not a fan of peanuts in my dinner, so we usually omit those but if you like them, go for it.
For an extra veggie kick, sauté baby bok choy and serve on the side.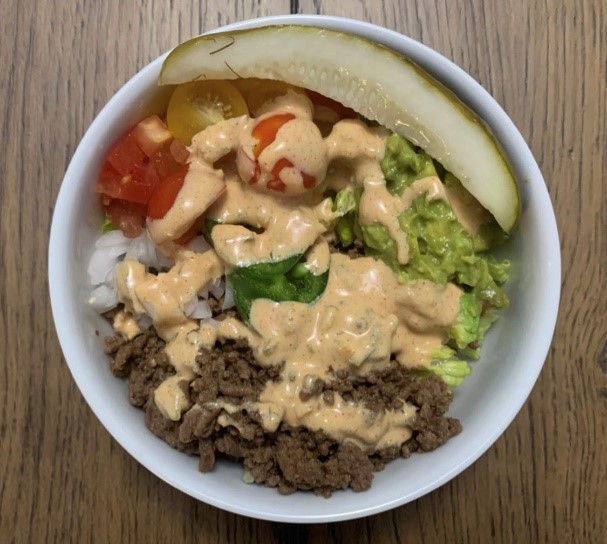 Photo Credit: Kathleen Entwistle Recipe Credit: All The Healthy Things
Who doesn't love a tasty burger especially one that comes with a special sauce?! I know I sure do. The beef is seasoned to perfection and then topped with all your favorite burger toppings. It's the perfect weeknight meal without all the fuss that comes along with making burgers.
Notes:
If you're watching your red meat intake, swap the beef for ground turkey or chicken.
Be creative with toppings, aside from lettuce, tomato and onion you can go with pickles, fried egg, jalapenos, etc….the possibilities are endless!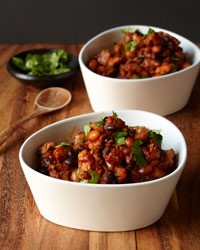 Photo and Recipe Credit: Food & Wine
You can never go wrong with chili and this one must be our family's most favorite recipe. Perfect for game day or a weekend dinner with leftovers perfect for any night of the week. Kick it up a notch with extra jalapenos or omit them to keep things mild. No matter how you like your chili, you're bound to like this one.
Notes:
I like to live on the wild side and don't de-seed the jalapenos…if you're not as adventurous as me, remove those seeds.
I go a bit rouge and add the beans early so they can simmer along with the rest of the ingredients. Don't be afraid to let this hang out on the stove top for a bit to thicken up.
I tend to not have the proper canned tomatoes on hand whenever I make this so I usually make do with what I've got…don't be afraid to do the same.
Shredded zucchini or carrots are also pretty tasty in this if you want to get adventurous.
Into cornbread with your chili? Give this buttermilk cornbread recipe a shot…it's amazing!
This recipe also freezes well so double it and save the leftovers for another day.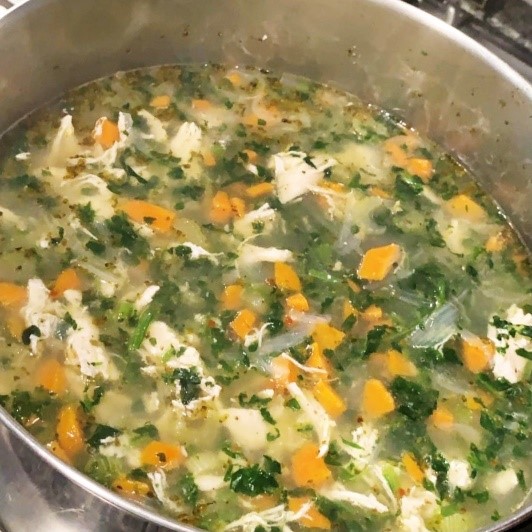 Photo and Recipe Credit: Kathleen Entwistle
This is a personal favorite of mine and is so comforting. Although I make it year round on rain days or when someone isn't feeling well, it is especially delicious during the cooler months. Loaded with veggies and chicken, you certainly can't go wrong!
Notes:
Adjust veggies as you prefer. For us, the more the better!
Spiralized zucchini is a great addition.
No one likes a bloated noodle so if we do noodles, we use ditalini.
You can top with parmesan cheese and serve with toasted bread. If you're local to Fuquay Varina, NC, pick up a loaf of any of their breads! (We store the sliced bread in the freezer and it can easily be thrown into the oven.)
Double this recipe and freeze the leftovers for a future date.
Ingredients:
1 pound chicken breast, shredded
1 tbsp olive/avocado oil
4 carrots, diced
1 onion, diced
4 celery stalks, diced
1-2 tsp minced garlic
2 quarts of chicken stock
2 tsp marjoram
Salt, to taste
Pepper, to taste
Red pepper flakes, to taste
Spinach, a few handfuls
Directions:
Add olive/avocado oil to large soup pot. Sauté carrots, onion, celery and garlic until slightly softened, 4-5 minutes.
Add chicken stock, marjoram, salt, paper and red pepper flakes. Bring to a simmer, 20 mins.
Add shredded chicken and spinach and simmer for another 5 mins until warmed through and wilted.
Adjust seasonings accordingly.
Serve and enjoy!