Time to bust out the grill and make some kebobs!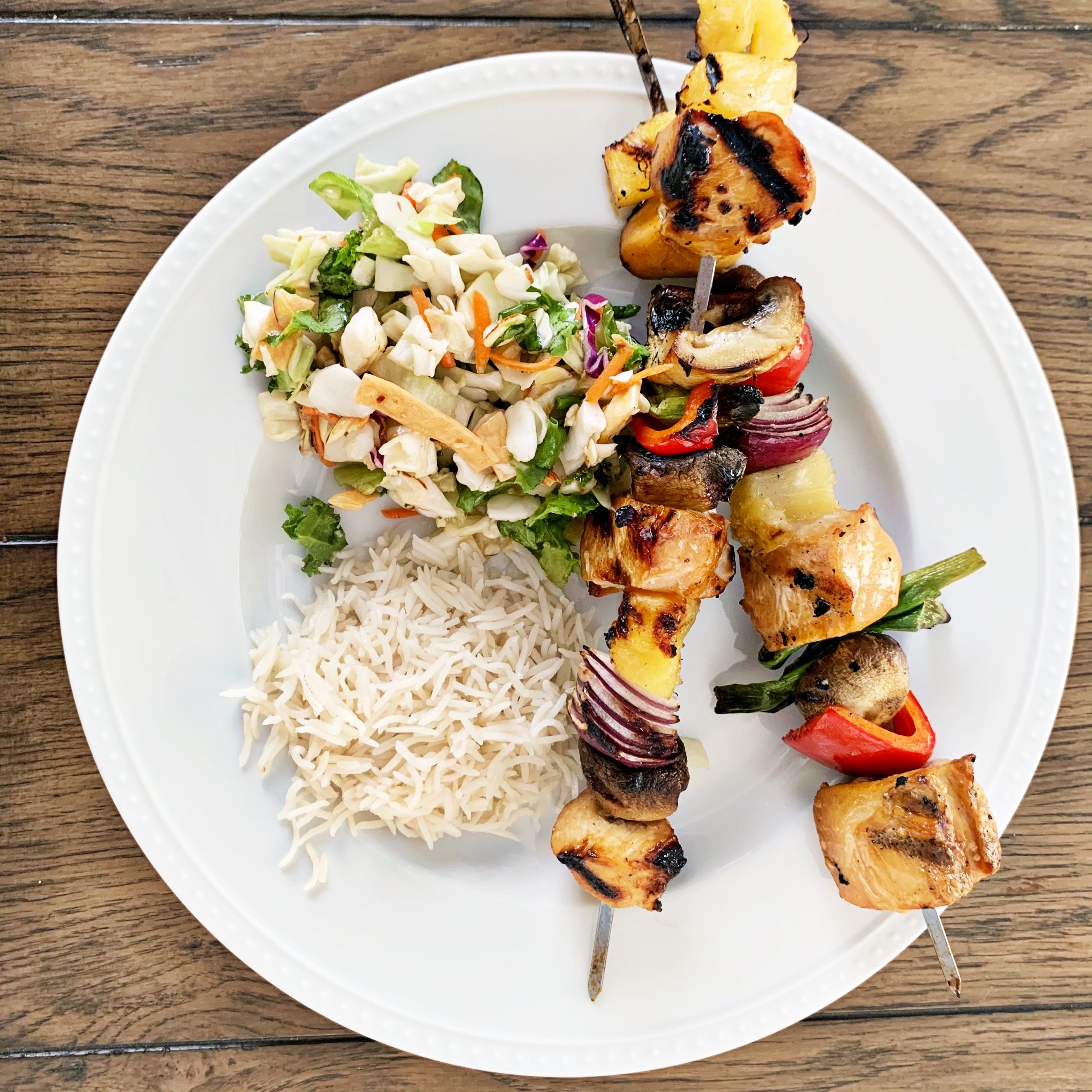 Nothing says 'hello spring!' like the sound of kids playing outside, longer (and warmer) days and the scent of someone cooking something delicious on the grill. Over the past few weeks in central NC, mother nature has been teasing us with signs of spring. And, I, for one, could not be happier. It also inspired me to cook up some delicious chicken kebobs this past week and they were so good that it warranted a share here.
Making kebobs is very simple and requires very little from you in terms of brain power and effort. There are a few simple steps and I'll walk you through them.
Pick the Protein and Marinate
First thing you want to do is pick your protein and whether or not you want to marinate it. Chicken, steak, shrimp, or fish, you can't go wrong. Marinating is not a requirement but definitely doesn't hurt either. If you want to skip the marinade, you certainly can't go wrong with salt and pepper. Before marinating, I recommend cutting the protein up into slightly over-sized chunks so the marinade can be exposed to more surface areas on the protein.
Pick the Veggies and Fruits
Once you've got your protein and marinade sorted out, it's time to pick the veggies. The possibilities are endless here so you really can't go wrong. The only recommendation would be to select veggies that can be chopped into slightly over-sized chunks and don't fall apart too easily when cooked. You can also add a fruit to your kebobs – our personal favorite is pineapple.
There is no wrong way to load your kebob skewers. I, personally, like to alternate the protein and veggies so you don't have the same item next to each other but you're the boss, so load it however you prefer. My only recommendation is to anchor the beginning and end with a protein or veggie that isn't going to easily slide off.
Lastly, fire up the grill and once it's hot, load it up with the kebobs. You're going to use your protein as the 'doneness' indicator so whenever your protein is done, the kebob is done. Don't have a grill or run out of propane or charcoal? Not a worry! Just turn your kebobs into a sheet pan meal that can be cooked in the oven.
Our Go To Chicken Kebob Recipe
Marinade:
1 cup olive or avocado oil
1/2 cup coconut aminos
1/3 cup honey
1/4 cup lemon juice
3-6 garlic cloves
1/2 teaspoon black pepper
1 pinch cayenne pepper
1/2 – 1 tsp red pepper flakes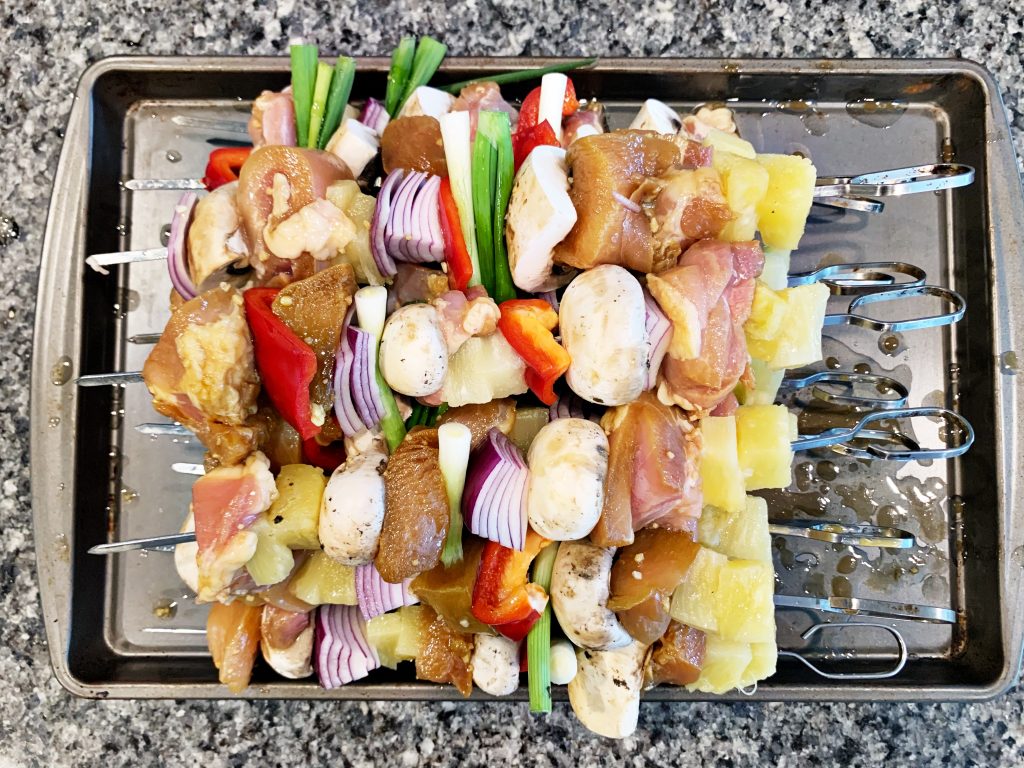 Cut the chicken into chunks (approx 1 inch cubes).
Combine all marinade ingredients into a gallon bag or large plastic container.
Add chicken to marinade and toss to coat.
Place chicken and marinade into the fridge and chill for 4 -6 hours.
Note:
You can use leftover marinade to baste the items on the grill. I recommend boiling it on the stove top for about 10 minutes first.
Veggies:
Onion (sweet or red)
Green Onions
Peppers, Red, Yellow, Orange
Mushrooms
Pineapple
Note: as noted above, you're the boss with veggies and fruit – have fun with it!
Once the protein and veggies have been sorted out, assemble the kebobs and get them on the grill. Cook to perfection and enjoy!
Have a favorite kebob recipe? Tell us how you kebob below.