One of the most important things about being an athlete is how you fuel your body to perform.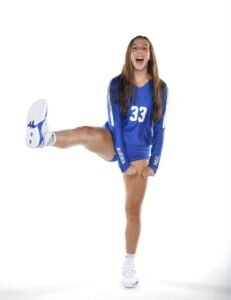 Summer is coming to an end which means fall sports are in full swing. Our student-athlete's bodies are about to take on more than what they are use too and we need to be prepared to keep them fueled. These are a few good things that's will keep your child's body hydrated and high energy in a healthy way. 
As a collegiate athlete focusing on a degree on nutrition, and having recently been a young high school athlete wanting to be at my best, I know there is a lot of room for improvement.  I also know that the best way to improve fueling our athletes is to learn about why it's important and what we are looking for as great fuel (and not so great fuel).
It's Time to Hydrate
Proper hydration is a big piece of the puzzle to properly fueling an all star athlete.  Most of my friends don't love drinking water and would rather drink almost anything else.  Actually, even I used to prefer to chug soda or sweet tea (North Carolina born and raised right here! )and I know that wasn't good for me and impacted my mood and performance… and even my skin.   
Here are some of my favorite drinks and snacks to have before and after a workout : 
Sometimes drinking water is hard, I like to drink Liquid IV (or LMNT which we sell here at OS Institute) as a way to stay hydrated especially in the summer. I drink one before and/or after practice to replenish my body with electrolytes. They also have a wide variety of flavors to choose from. As always its important to follow the instructions listed on the box.

Another drink I like to have with me is Body Armor. Body Armor is a coconut water based drink with no artificial sweeteners, flavors or dyes. I prefer Body Armor over Gatorade and Powerade which use artificial dyes and high fructose corn syrup or a lot of sugar.  These are things we want to try and avoid as much as we can. 
Let's Talk Food
When it comes to eating I sometimes struggle with finding something tasty that doesn't take forever to make or prepare. Some of my favorite snacks to eat after or before I workout are: 
Half an avocado with some vinegar or salt, avocados have 3 grams of protein, 22 grams of (good) fat, 10 grams of fiber and 11 milligrams of sodium. It's super quick to cut up and eat when youre on the move.

I also love to eat cottage cheese with either pineapple or oranges. Cottage cheese is full of protein, perfect for muscle recovery and growth, and fruits are a great source of natural sugars.

Another thing that's super easy to snack on is hard boiled eggs. Eggs have a great source of protein and are nutrient dense. 

Peanut butter toast is also a great snack that is quick and will sit well on your stomach if your child is concerned about getting sick. You can add different fruits with it to help it be more filling too. A banana is a great pairing! 
I also like to drink a chocolate milk (we recommend the Fairlife brand) or chocolate, whey protein shake,  as a good source of protein, they are good for when your athlete doesn't feel like physically eating in the morning but still need something that will help get them started with their day. 
As much as it stinks to give up your favorite fast food, do your best to keep your athlete away from fried foods, sodas, and sweet drinks. These will dehydrate your athlete, and make them feel sluggish and tired. Fast food will decrease your athletes performance and won't fuel them with the vitamins, minerals, fats, and other important nutrients that they need.  Not to mention that fast foods are typically cooked in or with seed oils which clog up and slow down our system as well as are typically inflammatory.  When we fuel our body properly you will start to see a change in your performance, eating the proper nutrition will allow you to move better, jump higher and everything in between. 
At the end of the day, all we can do is do our best, and we take an approach of good, better, best when it comes to taking care of yourself and making healthy decisions.  
Working to educate your athlete on the importance of proper nutrition, and also working to create a plan together around what works best for your athlete/family and schedule is key. 
Get $50 off the program with code 'OSI'
YOUTH SPORTS NUTRITION IMMERSION
Our friends over at The Endurance Edge have the perfect program for your young athlete. They have built the most comprehensive youth sports nutrition program with expert support to help you fuel your athlete(s) for optimal performance and healthy growth.

You'll get 6 months access, PLUS:
 Live coaching calls with our Performance Dietitians for clarification and support
Private community of families of youth athletes in sports ranging from swimming, soccer, cross country, gymnastics and baseball so you to stay motivated and learn from others
Colorful recipes and meal plans for a variety of dietary patterns including high iron, vegetarian, pescatarian, and more!
Additional resources added with your request
JOIN ANYTIME!