In our house, if we don't meal plan, we don't eat. Okay, maybe it's not that dramatic but it's pretty close; things just get weird. To prevent this from happening, every week my husband and in-laws get together and talk about what the menu for the upcoming week will look like. While we split cooking (and cleaning) responsibilities across the household, it can still be a lot to coordinate when you're managing kids, pets, a pandemic, jobs, mental and physical health, and anything else that lands on your plate. Recently we've started to give ourselves a bit of relief by preparing one large protein source on Sunday and using it for an entire week's worth of meals. In this volume of "what is Kat eating?" I am going to share our favorite recipes while using the same protein source for each one.
First, you're going to start with your protein source.  We have really been digging a slow cooked pork butt (or shoulder). If you don't eat pork, not a worry. You could use chicken or beef instead. Below is the slow cooked pork recipe that we use. Rumor has it that my mother in law at this pork at a restaurant and loved it so much that she actually paid the chef for the recipe!  Yes, it's that good.
Slow Cooked Pork Butt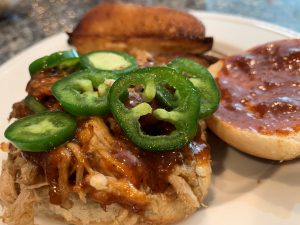 Rub for Pork:
2/3 cup kosher salt
½ cup cumin
1 cup brown sugar
½ cup coriander
1/3 cup chili powder
1/3 cup salt
1 cup paprika
1/3 cup pepper
*Note: you will have leftover rub, we store ours in a mason jar or large plastic spice container.
Cooking the Pork
Ingredients:
Pork butt/shoulder (7-8 lbs)
Pork rub
Can of coke OR can of light beer (the latter is easier to find for us as we don't drink soda)
1 cup of orange juice
Directions:
Place seasoned pork into crockpot
Add coke/beer and orange juice
Cook on low for 8-10 hours
Remove from crockpot and shred
Make a sandwich, top with your favorite BBQ sauce and toppings
Ramen with Shredded Pork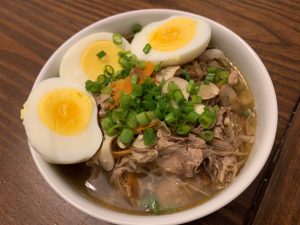 Ramen is one of my all-time favorite things to eat (you can't ever go wrong with a soup, right?!) and this recipe is quick, easy and oh so tasty! To be clear, this is not your noodle with seasoning packet kind of ramen. (Personally, I am a fan of that type of ramen but there is a time and place for it and this is not the time nor the place.)
Ingredients:
1 pound protein source
Salt and pepper, to season
1 tbsp avocado or olive oil
1 tsp ground ginger
3 tsp minced garlic (1.5 tsp garlic powder)
3 tbsp coconut aminos (or soy sauce)
2 tbsp mirin
4 cups chicken stock
½ cup fresh mushrooms (shitake are preferred, button or bella are fine too)
2 large eggs
½ cup scallions, chopped
2-3 oz ramen noodles
Optional: jalapenos, chopped
Directions:
Make the ramen broth: Heat oil in a large pot over medium heat, until shimmering. Add garlic, ginger and scallions and cook for a few minutes until softened. Add the soy sauce and mirin and stir to combine. Cook for another minute. Add the stock, cover and bring to a boil. Remove the lid, add mushrooms, and let simmer uncovered for 10-15 minutes. Season with salt and pepper, to taste.
Make the soft-boiled eggs: Fill a pot with an inch of water and bring to a boil. Add the eggs (still cold from the fridge) and simmer for 6 minutes. Place in large bowl with ice water and wait for 5 minutes until cool enough to handle. Peel shell and slice in half, lengthwise.
Cook ramen noodles: Follow package instructions for cooking the ramen noodles.
Assemble the ramen bowls: Once cooked, add noodles to bowls. Add shredded pork, jalapenos, and soft-boiled egg. Serve immediately.
Shredded Pork Tacos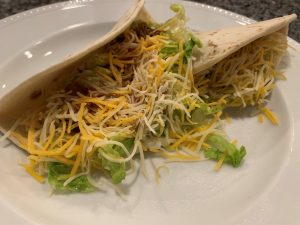 You can't go wrong with a pork taco. We keep things really simple with this one and assemble the usual topping suspects. Overall this takes about 15-20 mins to prep and is simply delicious
To prepare the pork:
Turn broiler on high
Line sheet pan with parchment paper
Spread pork out on sheet pan
Drizzle olive/avocado oil on top
Add some chicken stock to the pan (keeps the pork from drying out – don't need a lot, just enough to add moisture to the bottom of the pan)
Sprinkle taco seasoning on top of the pork

We make homemade taco seasoning and use this recipe.
The usual topping suspects:
Lettuce
Tomato
Avocado (or guacamole)
Cheese
Sour Cream
Salsa
Refried Beans (we love this instant pot recipe)
*Note: these is not an all inclusive topping list, just our favorites…you're the boss applesauce so feel free to use whatever toppings you and your family like!
Shredded Pork Totchos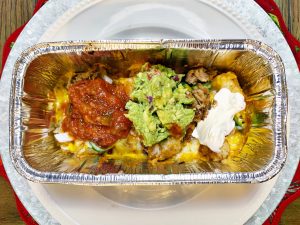 Totchos
/tätCH?z/
 Noun
A variation of nachos where tortilla chips are substituted with tater tots
Who doesn't love a plate of nachos piled high with protein, cheese-y goodness and any other delicious toppings? You're right, no one. Imagine your favorite nachos with tater tots instead!
Ingredients:
All your favorite nacho toppings: shredded pork, cheese, salsa, guacamole, sour cream, beans, etc.
A bag of frozen tater tots
Directions:
Cook the tater tots per the instructions on the bag
Pile the cooked tater tots with all your favorite toppings including the shredded pork
Turn the broiler on low and place the totchos in to get all melted and awesome
Serve and enjoy immediately
Spicy Shredded Pork Chili
This is a fun spin on my favorite chili recipe. Prepare as you normally would but use a pound of shredded pork instead!
You can find the original recipe here: https://www.foodandwine.com/recipes/spicy-chicken-chili
And head over to a previous volume of what is Kat eating for my recipe notes: http://osi-online.com/whatiskateating-1/.