We all know it's about balance and moderation, right? Well here's a healthy treat you can feel good about when you do decide to indulge yourself a little bit. Dairy free and gluten free also makes it a crowd pleaser for a holiday (Easter is coming up quick!) or to take to a party. Creamy and sweet, this light dessert won't leave you feeling too full or on a sugar rush. Full of healthy, really foods, this beautiful dessert is just the right treat to dig into on a hot spring day!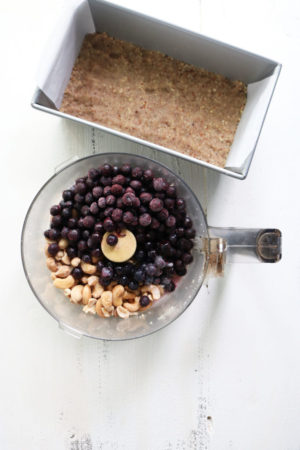 INGREDIENTS
1 cup raw pecans
½ cup blanched almond flour
3 tablespoons agave nectar
1 cup raw cashews, soaked overnight (drained and rinsed)
2 cups frozen blueberries
½ cup unsweetened vanilla almond milk
¼ teaspoon vanilla extract
3 tablespoons agave nectar
1 lime, juiced
INSTRUCTIONS
In your food processor combine the pecans and almond flour.
Process until all chopped up and mealy.
Add the agave nectar and process again until it sticks together when you press it with your fingers.
Line a bread pan with a strip of parchment paper.
Press the nut crust into the bottom of your pan.
In the same food processor, add the cashews, berries, almond milk, vanilla, agave nectar, and lime juice.
Process until creamy and combined and beautiful.
Pour the purpley-blue goodness into your pan on top of the nutty crust.
Top with additional berries and place in the freezer on a flat surface.
Freeze for 3+ hours.
Remove from the freezer and pull the parchment paper to help remove it from the pan.
Place on a cutting board and cut into bars!
Store in the fridge.
Thanks to The Toasted Pine Nut for another good recipe!