Need a protein packed meal but are also serving a crowd? One of my biggest struggles with serving a crowd breakfast (or brunch) is ensuring everyone can sit and eat a hot meal at the same time. Enter the sheet pan meal! It'll be hot and ready for everyone to sit an enjoy together. Because what's better than a meal and time shared with loved ones?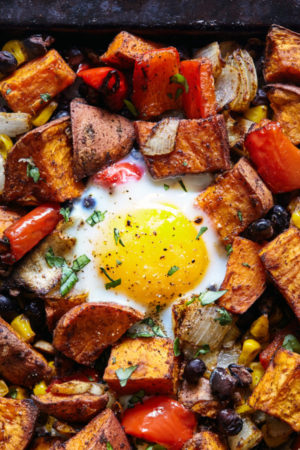 INGREDIENTS
Parchment paper
2 medium sweet potatoes cut into 1-inch cubes
1 medium onion chopped
2 cloves garlic finely chopped
1 medium red bell pepper chopped
1 cup black beans drained, rinsed
1 cup corn kernels
1 Tbsp. + 1 tsp. olive oil
1 1/2 tsp. chili powder
1/4 tsp. ground cumin
1/4 tsp. ground smoked paprika
1/2 tsp. sea salt or Himalayan salt divided use
1/2 tsp. ground black pepper divided use
8 large eggs
2 Tbsp. finely chopped fresh cilantro
INSTRUCTIONS
Preheat oven to 400º F.
Line large sheet pan with parchment paper. Set aside.
Combine sweet potatoes, onion, garlic, bell pepper, beans, corn, oil, chili powder, cumin, paprika, ¼ tsp. salt, and ¼ tsp. pepper in a large bowl; toss gently to blend.
Place sweet potato mixture on pan. Bake for 18 to 20 minutes, stirring after 10 minutes.
Create eight wells in sweet potato mixture. Gently crack an egg into each well. Season eggs with remaining ¼ tsp. salt and remaining ¼ tsp. pepper. Bake for 8 to 10 minutes, or until eggs are set.
Garnish with cilantro; serve immediately.