Have you seen those egg bites at Starbucks that are all the rage right now? They're delicious but take a special machine to make and while that's an option for some, I know I don't need another appliance stuffed into my pantry between my bread machine and crock pots. This recipe makes 48 egg bites and the possibilities of flavors are endless so it's a super versatile recipe to keep up your sleeve.
These are a great option to make on a Sunday and grab and go through the week. They don't have to be a breakfast food either – they make a great lunch, quick snack and even a dinner. I don't know anyone who doesn't love breakfast foods for dinner. Feels decadent, doesn't it?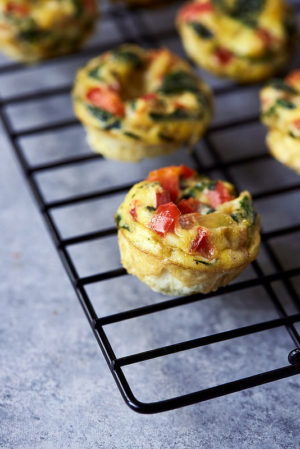 INGREDIENTS
8-10 large pasture-raised eggs
½ cup milk (unsweetened non-dairy, like almond or coconut, or goat, cow, etc)
½ teaspoon freshly ground black pepper
¼ teaspoon sea salt
½ – 1 cup add-ins, like bacon, ham, sausage, cheese, greens, cooked onions, wilted greens, cooked chopped veggies, salsa, etc
additional fresh herbs, as you'd like
INSTRUCTIONS
Preheat the oven to 375º F.
Spray or lightly grease 2 mini muffin tins (each with 24 cups) with butter, ghee, olive, avocado or coconut oil. Whisk the eggs, milk, pepper, and salt in a large bowl to blend well. Stir in any add-ins you are including.
Fill prepared muffin cups almost to the top with the egg mixture. Bake until the egg mixture puffs and are just set in the center, about 8 to 10 minutes. Using a rubber spatula, loosen the frittatas from the muffin cups and slide the frittatas onto a platter. Serve immediately. Serve with any sauces or sour cream, garnish with fresh herbs.
Options for adding to your Mini Frittata Egg Bites:
cooked meat: bacon, sausage, chicken, pork, etc
deli meat: ham, salami, turkey, etc
smoked salmon
veggies: onion, garlic, peppers or chiles, greens, mushrooms, zucchini, asparagus, Brussel sprouts, broccoli, squash, tomatoes, sun-dried tomatoes, capers, artichokes
cheese: cheddar, mozzarella, goat cheese, feta, parmesan, etc – shredded, diced or crumbled
shredded, cooked hash browns
olives
salsa, sour cream, creme fraiche
fresh herbs: scallion, chives, basil, thyme, oregano, cilantro, parsley, etc
etc, etc
Thanks, Tasty Yummies, for this great recipe!