Summer time. when it's not a million percent humidity here in North Carolina, is classic grilling weather. Naturally, I had to hunt down a new, delicious grilling recipe to add to my menu this week. This steak recipe is packed with flavors I love – spicy tomatillo salsa, sweet watermelon and I'll definitely be adding some guacamole or sliced avocado on the side to ensure I've got some healthy fats paired with my protein and carbs.
Give this one a try and have a beautiful dish to present that tastes totally amazing too!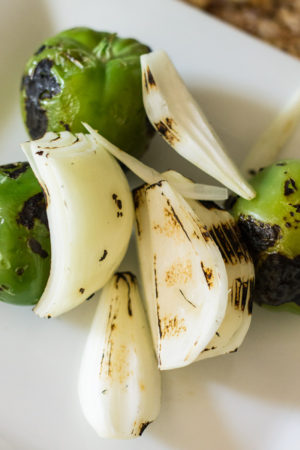 INGREDIENTS
Marinade
1/2 cup olive oil
1/4 cup fresh cilantro
1 tablespoon chili powder
2 teaspoons cumin
1/2 teaspoon garlic powder
2 teaspoons dried oregano
3 tablespoons lime juice
1 tablespoon apple cider vinegar


Salsa
3 tomatillos, husked
1/2 small onion, cut in half
1 tablespoon fresh cilantro
1 teaspoon cumin
1/2 cup finely diced watermelon
*optional – 1 seeded jalapeno
INSTRUCTIONS
Combine all the marinade ingredients and pour into a sealable bag or glass dish. Place the skirt steak in the bag or dish and let marinate overnight
Turn grill on to high
Once grill is preheated, place the tomatillos on well-oiled grates. Turn frequently for roughly 10 minutes, until tomatillos are slightly charred on the outside
Before the tomatillos are finished roasting, add the cut onion and jalapeño (if desired) for a few minutes, until outsides are slightly charred
Remove the vegetables and place the steak on the grill, cooking for roughly 2-3 minutes per side, depending on thickness
Once the steak is cooked, let rest and make salsa. Place the charred vegetables, cilantro, and cumin into a food processor and pulse until combined yet chunky. Remove from the food processor and add the diced watermelons
Serve the salsa over the cut steak
Thanks, Physical Kitchness, for this recipe!