In the mood for chips and salsa but wanting a healthier version? Get your dip fix with these fried green plantains and mango avocado salsa! This salsa combo also tastes amazing on steak, fish, chicken – really any protein you can easily grill up or even thrown on top of a salad. Avocado brings some healthy fats to the table and you'll be blown away by the combo of mango and avocado and all the other flavors that come together. This might just become a new summer staple!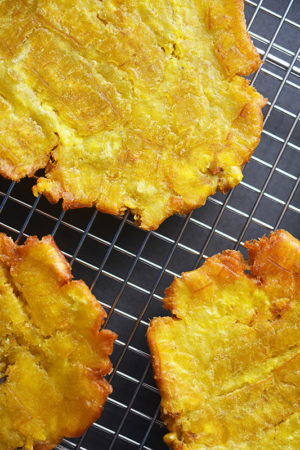 INGREDIENTS
For the fried green plantains (a.k.a tostones or patacones):
4 cups coconut oil, lard, or tallow
4 green plantains (around 2 pounds)
kosher salt
For the Mango +
Avocado Salsa:
2 cups diced ripe mango (about 2 mangos)
1 cup diced Hass avocado (1 medium avocado)
½ cup finely diced red onion
¼ cup minced fresh cilantro
2 tablespoons extra virgin olive oil
freshly ground black pepper
big pinch of kosher salt
¼ teaspoon red pepper flakes
Juice from 1 lime
INSTRUCTIONS
Heat your fat of choice in a large Dutch oven over medium heat until it reaches 325˚F.
In the meantime, cut the ends off the plantains. (Tip: make sure you use super-green plantains.)
Use a sharp knife to cut a shallow line down the length of each plantain, making sure you don't cut into the fruit. Then, slice each plantain into three even pieces (about 2 inches in length).
When the oil reaches 325˚ F, carefully lower the plantains into the shimmering fat. The oil should immediately start bubbling around the plantains as soon as it comes in contact. Fry the plantain pieces for 3 to 5 minutes, turning them occasionally until they turn golden yellow. Transfer the fried plantains to a paper-towel-lined baking sheet to drain off any excess oil.
Place a fried plantain between two pieces of parchment paper. Smash it with a meat pounder, tortilla press, or a small cast-iron skillet – or just about anything else that's flat and heavy—until you end up with a thin (about ¼-inch thick) plantain patty.
Make sure the patties aren't too thin; otherwise, they'll fall apart when you fry them. But try to pound them thin enough so that they'll get properly crunchy.
Bring the temperature of the fat up to 350˚ F, and fry the plantain pancakes in the oil until crispy, about 5 to 7 minutes. Don't overcrowd the oil: fry about two to three smashed plantains at a time.
These crunchy treats are done when you flick 'em with your fingers and they sound hard and hollow. (Pro tip: take them out of the hot oil before you flick them.)
Transfer the fried plantains to a metal cooling rack and repeat the steps above with the rest of the batch.
Sprinkle coarse salt on top and start making the salsa.
Grab two ripe mangos and dice them up. I like to peel off the skin first with a vegetable peeler and then cut a slice on either side of the flat seed in the center. I also trim off some of the extra flesh on the side of the seed to snack on.
Place the diced mango in a bowl and add in the cubed avocado, ½ cup finely diced red onion, ¼ cup minced fresh cilantro, 2 tablespoons extra virgin olive oil, freshly ground black pepper, a big pinch of kosher salt, and ¼ teaspoon red pepper flakes.
Get a lime and cut a slice parallel to the center. Continue cutting slices around the center core – the center pith and seeds will be trapped in a tidy column that you can squeeze and toss. Juice lime into bowl.
Toss the ingredients to combine, and taste and adjust for seasoning.
Thanks, Nom Nom Paleo, for another fabulous recipe!