Who else loves a good, cool, crunchy side dish? It's pretty much the perfect addition to any type of grilled meat which also makes it perfect to take to a gathering with friends. This recipe has healthy fats (walnuts, almond butter, avocado oil) which will help you feel full along with some fruits and veggies that will load you with fiber and vitamins.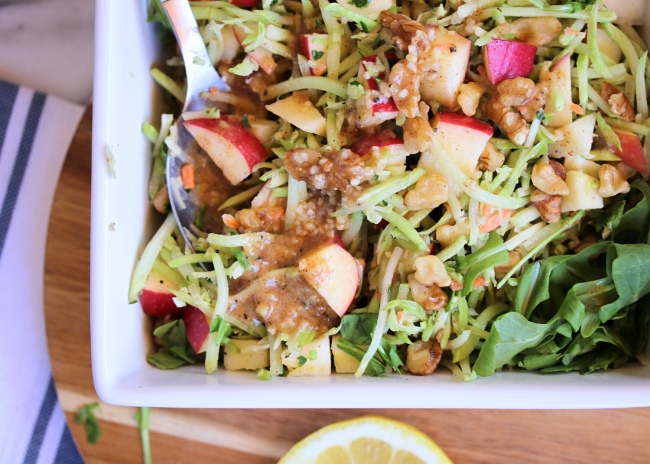 INGREDIENTS
2 cups broccoli slaw
1 apple, diced (I used Pink Lady)
1/4 cup sliced almonds or chopped walnuts
1 tsp of each: almond butter, apple cider vinegar, lemon juice
1/2 tsp garlic, minced
1 Tbsp avocado oil
salt & pepper to taste
INSTRUCTIONS
Combine the broccoli slaw, diced apple, and sliced almonds in a medium to large bowl.
In a small bowl, whisk the remaining ingredients (almond butter, ACV, lemon juice, garlic, & avocado oil) until fully combined – this is your dressing.
Drizzle the dressing over your slaw, and toss until evenly coated.
Season to taste with salt & pepper, and enjoy!
Thanks to Just Jessie B for this recipe!